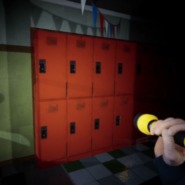 Not everyone has the nerves to play survival horror games. This is indeed scary that there is an immortal monster roaming around and searching for you and all you can do is hide and run. In this type of entertainment, you usually don't have weapons or, if you have them, they are still not powerful enough to kill the enemy. But if you love these thrills, you will love Lunch Lady gameplay. This new online multiplayer entertainment brings to the empty and pitch-dark school at night. You play for an unfortunate pupil who wants to steal exam answers instead of studying for the exams. You can also bring your friends with you, but do not forget to mention that you are not alone here. No, there is no guard or teachers. Instead, you are welcomed by a murderous possessed Lunch Lady who has one goal – kill everyone she sees.
To escape the building, first, you have to collect all 10 exam papers. Without them, you are unable to leave. But it is a challenging task, the papers are hidden all over the place in the least expected places. You have to be super attentive and meticulous to find them.
Besides looking for what you have come for, you need to think and make quick decisions not to get caught and killed by the Lunch Lady. First, it could be scary but quite easy. But as you progress, she also progresses – she becomes stronger, smarter, and quicker. Now you have to hide better and run even if you see her in a distance or hear her pan banging on the walls in the other end of the hallway.
The fun thing about this entertainment is that each time you restart the game, the monster's roaming ways change. You will also do not find the collectibles in the same places, they also alter with every new walkthrough. And of course, there would be absolutely different emotions when you play alone or with 3 of your friends whose blood-chilling screams you can hear in a distance-observing voice chat. This chat will imitate that they are far from you when they are in another room. It is a realistic touch giving additional thrills.